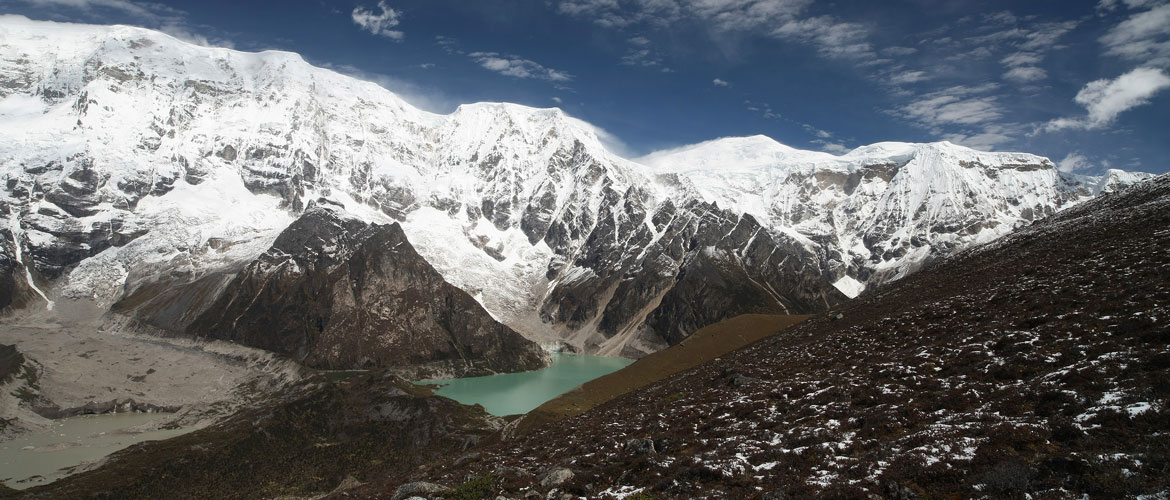 Max. Elevation: 5,320m
Duration: 25 days,
Highest Camp: 5,050m
Standard: Hard
Best Seasons: Mid June to Mid October
Start: Drukgyel Dzong (Paro)
Finish: Sephu (Trongsa)
The Snowmen Trek is the most difficult trek in Bhutan and is often touted as one of the most difficult treks in the entire world. This is an extension of the Laya-Gasa Trek. It starts in Drukgyel Dzong in Paro and leads to Laya in Gasa further into Lunana region and then near the Gangkar Puensum and finally into Sephu in Trongsa. This trek ventures into some of the most recluse areas in the northern frontiers of Bhutan and trekkers brave altitudes of above 5,000meters and above. Some camping sites are on area completely covered in snow. This trek is for professional trekkers.
Duration: 25 Days
Detailed Itinerary
Day 1: Drukgyel Dzong – Sharna Zampa
(Distance 17km, four to five hours, 360m ascent, 80m descent, camp altitude 2,850m).
You will drive up to the road-end at the ruins of the Drukgyel Dzong (2,580m) and the trek begins. The trail begins with a gradual climb along the Paro Chhu and you will cross meadows, paddy fields and farmhouses. After four hours, you will reach the army post at Gunitsawa village. At the army check post your trek permit (we will give you the permit) will be checked and endorsed. The campsite is on the opposite side of the river, not far from Gunitsawa.
Day 2: Sharna Zampa- Thangthangkha
(Distance 22km, seven to eight hours, 770m ascent, 10m descent, camp altitude 3,610m).
The trail is long and you will leave the river valley and climb uphill to enter the Jigme Dorji National Park. The valley finally narrows gradually to a mere path, which descends to a meadow where a camp will be set up. From here, if weather permits, you will have the first great view of Mount Jomolhari.
Day 3: Thangthangkha – Jangothang
(Distance 19km, five to six hours, 480m ascent, camp altitude 4,080m).
This morning the trek continues up the Paro Chhu valley, which widens into patches of alpine meadow and scanty growths of forest. Cross an army outpost along the way and enjoy a spectacular view of high mountain ridges and snow-capped peaks. Yaks and the herder's homes become a regular feature of the landscape. You will pass the villages of Soe, Takethang and Dangochang. At Jangothang, you will again have a spectacular view of Mount Jomolhari.
Day 4: Jangothang Halt
Today is a good time for you to acclimatize to the subalpine conditions. You will get ample time and opportunity to view Mount Jomolhari and Mount Jichudrake. You will also have time for day hikes, which will offer you amazing views of alpine lakes and snow capped mountains. If you are lucky, you can spot some blue sheep on the upper slopes of the valley. You can also trek up to Tosoh or hike around the area. There are good short hiking trails in three directions. Jomolhari and its subsidiary mountain chains lay directly west, Jichudrake to the north and there are a number of unclimbed peaks to the east.
Day 5: Jangothang – Lingshi
(Distance 18km, six to seven hours, 840m ascent, 870m descent, camp altitude 4,010m)
The trail will be uphill climb for 30 minutes and then reach a gradual ascend till the Nyilila Pass at 4,870 meters. On a clear day, you will have a good view of the Mt. Jomolhari, Jichu Drake and Tsherimgang, all of them rising above 7,000m. You could also see blue sheep grazing at this altitude. Then a gradual descent towards the camp would enable you to see local highlander yak herding communities living in tents made of yak wool. As you enter Lingshi, you will see the majestic Lingshi Dzong. The capsite is just before the Lingshi Dzong.
Day 6: Lingshi – Chebisa
(Distance 10km, five to six hours, 280m ascent, 410m descent, camp altitude 3,880m).
You will have a relaxed day as it entails the shortest walking day today. Towards the Lingshi dzong, you will reach a chorten and then you can choose to stay on the main trail or take the diversion to the Dzong standing tall at 4,220 meters. Then you will pass the villages of Lingshi and Goyul. At Goyul, the stone houses are clustered together to a small compact village that is unusual in Bhutan where village houses are normally scattered. On reaching the campsite at Chebisa with a beautiful waterfall behind the village, you will have plenty of time to visit the village houses if you choose to.
Day 7: Chebisa – Shomuthang
(Distance 17km, six to seven hours, 890m ascent, 540m descent, camp altitude 4,220m)
You walk through a wide pastureland towards the Gobu La Pass. On the way, you could people tending to their yaks. There is also a great chance to spot large herds of blue sheep above the trail. After crossing the Gobu La (4,410m), you descend to the valley, then climb again a little bit, and descend again to Shakshepasa (3,980m) where a helipad has been established. Climbing from here you will finally reach the campsite at Shomuthang, above a river, which is a tributary of the Nochu River.
Day 8: Shomuthang – Robluthang
(Distance 18km, six to seven hours, 700m ascent, 760m descent, camp altitude 4,160m).
Today, you will start early. You will climb up the valley to Kang Bum (6,526 m) and some edelweiss. After two hours of climbing, you will reach Jhari La (4,750m), from where you catch the first sight of Sinche La, the pass you will have to cross the day after. The big snow peak in the north is Gangchhenta (6,840m), better known as the Great Tiger Mountain. If weather is clear, Tserim Kang and the top of Jumolhari will be visible. The camp by the river is called Tsheri Jathang. Herds of Takin, the Bhutanese National Animal, migrate to this valley in summer and remain for about four months. The valley has been declared a Takin sanctuary. Climb up a little bit and you will reach the campsite at Robluthang in a rocky meadow.
Day 9: Robluthang – Limithang
(Distance 19km, six to seven hours, 850m ascent, 870m descent, camp altitude 4,140m).
After crossing Sinche La (5,005m) – the last and highest pass on the trek in case you don't intend to continue the Snowman trek from Laya onwards – you descend to a little stone house where a few Laya women live. Right behind the stone house you will see an impressive terminal moraine and a glacial lake at the foot of the valley. You can see classic examples of the lateral moraines where the glacier has pushed rocks up both sides of the valley. Below the moraine, you cross the Kango Chhu and soon reach the Limithang campsite.
Day 10: Limithang – Laya
(Distance 10km, four to five hours, 60m ascent, 340m descent, camp altitude 3,840m).
Today, you walk all the way downhill along a narrow winding river valley. After a long time, you again trek partly through deep forest. The trail leads you to the west side of Laya village. From the west of the village you will view Gangchhenta again and catch a glimpse of Masagang. In the village center is a community school and a basic health unit with telephone connection. The campsite is below the school.
Day 11: Acclimatization day in Laya
If you have trekked from Drukgyel Dzong you should spend a day recuperating from the trek to Laya and preparing yourself for the rest of this challenging trek. It's worthwhile to spend one day in Laya just for the great views from Laya and its extraordinary inhabitants.
Day 12: Laya – Rhoduphu
(Distance 19km, six to eight hours, 1,030m ascent, 750m descent, camp altitude 4,160m).
From Laya we descend to an army camp and continue following the river till the turn off point to Rhoduphu. After lunch the climb continues through rhododendron bushes till you reach the camp at Roduphu just next to the Rhodu Chhu.
Day 13: Rhodophu – Narethang
(Distance 17km, five to six hours, 740m ascent, camp altitude 4,900m).
After following the river for about half an hour, you will have a steady climb to a high open valley at 4,600m and then further up to Tsomo La (4,900m). Tsomo La offers a superb view of Lunana, Mount Jomolhari and Jichu Drake, and the Tibetan border. The route then crosses a flat, barren plateau at about 5,000m. The campsite at Narethang is towered by the peak of Gangla Karchung (6,395m).
Day 14: Narethang – Tarina
(Distance 18km, five to six hours, 270m ascent, 1,200m descent, camp altitude 3,970m).
From the camp you will climb for about an hour to Gangla Karchung La (5,120m). The view from the pass is breathtaking and the whole range of mountains including Jekangphu Gang (7,100m), Tsenda Kang and Teri Gang (7,300m) can be seen. The pass descends along a large moraine. Again one has great views: a massive glacier descends from Teri Kang to a deep turquoise lake at its foot. Up here a glacial lake burst through its dam in the early 1960s, causing widespread damage and partially destroying Punakha Dzong. Finally, it is a very long descent through thick rhododendron to Tarina valley, where you will find several good campsites along the Tang Chhu.
Day 15: Tarina – Woche
(Distance 17km, six to seven hours, 270m ascent, 330m descent, camp altitude 3,910m).
The walk leads down through conifer forests following the upper ridges of the Pho Chhu, passing some impressive waterfalls. The trail then climbs over a ridge and drops to Woche, a settlement of a few houses, the first village in the Lunana region.
Day 16: Woche-Lhedi
(Distance 17km, six to seven hours, 980m ascent, 1,190m descent, camp altitude 3,700m).
The trek starts through juniper and fir forests, and further ahead, through rhododendron bushes. Climb up to Keche La pass (4,650m) where one can have the great view of surrounding mountains again. After the pass, descend to the riverside walking through a village with a stunning view of Table Mountain and others. Follow up the river till Lhedi Village. Lhedi has a basic health unit, a school and a wireless telephone connection.
Day 17: Lhedi-Thanza
(Distance 17km, seven to eight hours, 450m ascent, camp altitude 4,150m).
In clear weather, you will have great views of Table Mountain (7,100m). Around lunchtime you will pass the small village of Chozo (4,090m) which has a dzong still in use. Reaching Thanza again you will have a great view of Table Mountain, which forms a 3,000m high wall of snow and ice behind the village. Although there are possibilities to camp directly at Thanza, most groups prefer to camp in Thoencha.
Day 18: Rest day at Thanza.
In Thanza walk around and experience some village life or climb up the ridge for fascinating views of lakes and mountains. But as it takes time to arrange new yaks (the yaks from Laya will not go further than Thanza) you might have to spend one day at Thanza anyway.
Day 19: Thanza – Danji
(Distance 8km, three to four hours, 80m ascent, camp altitude 4,230m).
From Thoencha, the trail climbs up to a large boulder from where you will have excellent views of Thanza, Toencha and Choso village and the surrounding mountains. After a few hours of relatively flat and easy walking, you will reach a yak meadow with some yak herder's huts also an excellent campsite with a great chance to spot some blue sheep on the hills above. A trail junction near the campsite will give you the choice between the route up to Gangkhar Puensum base camp, and further on to Bumthang or to Sephu in Trongsa.
Day 20: Danji – Tshochena
(Distance 12km, five to six hours, 980m ascent, 240m descent, camp altitude 4,970m).
Having chosen the route to Sephu, the trek crosses the creek and after a long climb, you will reach Jaze La (5,150m) with spectacular panoramic mountain views. The path then descends between snow-covered peaks and a couple of small lakes to the campsite near the shore of Tshochena Lake.
Day 21: Tshochena – Jichu Dramo
(Distance 14km, four to five hours, 230m ascent, 150m descent, camp altitude 5,050m).
You follow the bank of the blue green lake before arriving at a ridge at 5,100m, where there is another spectacular view in all directions. After going up and down over small hills to reach a glacial lake, the route descends first before climbing again up the next pass, the Loju La (5,140m). Finally after crossing a small saddle (5,100m) you will enter a wide glacial valley from where the trail descends gradually to the campsite at Jichu Dramo.
Day 22: Jichu Dramo – Chukarpo
(Distance 18km, five to six hours, 320m ascent, 730m descent, camp altitude 4,600m).
Right after leaving the camp you will climb through a moraine to Rinchen Zoe La (5,320m). Spectacular mountain scenery with Gangkhar Puensum amongst the impressive mountains is the reward for climbing the highest pass on this trek route. Rinchen Zoe Peak (5,650) towers above the pass the west. Descending from the pass, the route leads into a wide valley with several lakes and goes steeply down along a moraine to the Thamphe Chhu. Here the vegetation begins to thicken again and you will see the first real trees since Lhedi. After a couple of hours you reach the campsite at Chukarpo.
Day 23: Chukarpo – Thampe Tsho
(Distance 18km, five to six hours, 400m ascent, 700m descent, camp altitude 4,300m)
The descent continues along the river till you reach the yak herder huts at Gala Pang Chhu (4010m). From here the trail climbs steeply towards Thampe Tsho, a beautiful clear turquoise lake, with the campsite next to it.
Day 24: Thampe Tsho – Maurothang
(Distance 14km, five hours, 330m ascent, 1020m descent, camp altitude 3,610m).
From the lake you climb steeply to the last pass on your trek, the Thampe La (4,600m) with a good chance to spot some blue sheep on the way. Then the path descends to the sacred lake Om Thso. Passing a waterfall you will reach another, smaller lake 100m below to descend steeply to the Nikka Chhu. The path finally leads through mixed forest to large clearing on the banks of the river with a few yak herder huts, Maurothang.
Day 25: Maurothang – Sephu
(Distance 18km, five to six hours, 990m descent).
On the last day of this extraordinary trek, your porters will have to change from yaks to horses as the yaks will not be willing to go further down. The path follows the Nikka Chhu to reach a large grassy area overlooking the road and the village of Sephu. You finally reach the road at the Nikka Chhu bridge at Sephu where you will find several stores mainly selling bamboo products and small restaurants.