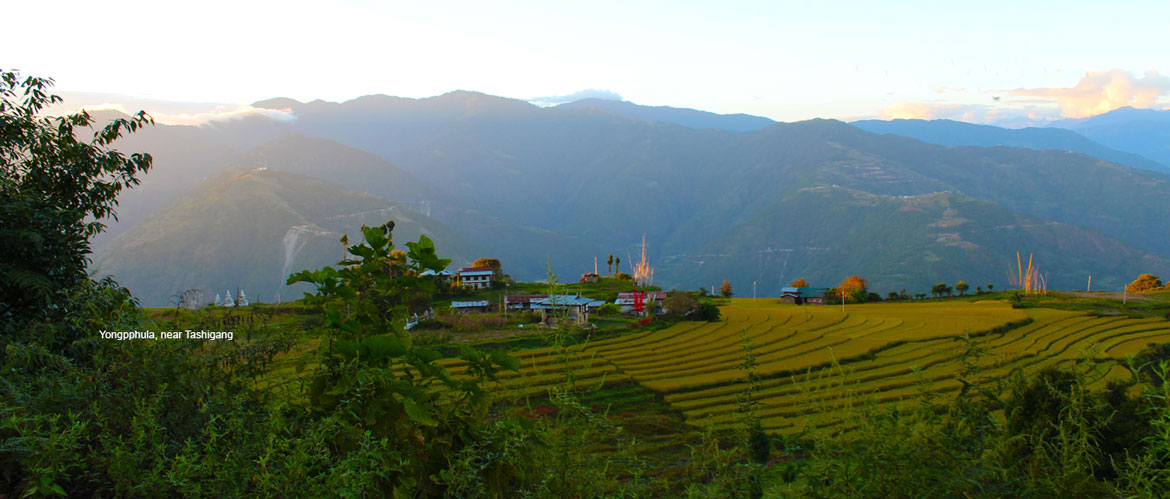 The Salt Trek Route is a newly founded trek route in the eastern Bhutan and is quite a popular 8-day trek that is rated a medium-hard one. The trail follows the ancient foot trail between Trashigang and Samdrup Jongkhar where people use to make voyages via this route to take salt and silk from the bordering town of Samdrup Jongkhar. The trek takes you through lush green valley's surrounded by pristine broadleaved and pine forests with spectacular views of the villages and surrounding mountains amidst the clouds. The geography and different altitude of the trail offers a diverse area of bird habitats.
Duration: 10 Days / 9 Nights
Detailed Itinerary
Day 01: Guwahati (India) – Samdrup Jongkhar (Bhutan)
At your arrival at Guwahati airport, our representative will pick you up and drive to Samdrup Jongkhar, the eastern end-bordering town of Bhutan. Reaching the border complete the immigration and custom formalities you will bid adieu to your one-day helpful guide from India, you then finally get into Bhutan. The region is the main trading center for the population of the six eastern districts and is famous for the traditional silk garments.
Day 02: Samdrup Jongkhar – Nelang (823m)
Today in the morning hour, explore the bordering town of Samdrup Jongkhar. The town has nothing much to offer but you can make a short walk through the town. If you are keen birder, we will lead you around for short introductory birding through the dominating tropical jungles of broad-leaf evergreen forest with some fertile terraced fields and through the town areas. After lunch in the town, your drive takes you to Nelang near Deothang. It takes around two hours and the drive takes you through hardwoods such as teak, sal, sisoo and bamboo forest.
Day 03: Nelang – Radingphu (686m)
Today your trail starts with a downhill walk for about 45 minutes till you reach the Duri Chu River which is a combination of three streams commonly known as Phundungir, Manchuri, Morongri streams. For about two hours, your trail follows Duri Chu River, where trekkers will have to criss-cross several times through log bridges. Lunch will be served while reaching at Dutktseri. After lunch your trek continues following Duri Chu for 2 hours with several criss-cross through traditional wooden log bridge and finally lead you to your campsite at Radingphu which is a perfect site for camping.
Day 04: Radingphu – Mongling (2,218m)
Your trek in the morning hour begins with a steep climb for about three hour till you reach Dotak, a border between Pemagatsel and Samdrup Jongkhar. You can stop here for lunch and after lunch your trek follows through climbing another two hours climb through the thick broad-leaved forest. En-route you will be treated with panoramic view of the surrounding region including Deothang the starting trekking point. With several small ascent and descent, you will finally make it to Mongling on the Tshelingkhor-Pemagatsel highway, which is a perfect spot for camping.
Day 05: Mongling – Demri Zam (1191m)
Today with slow descent, your trek takes you to Demrizam through crossing several farm-roads and villages. En-route if you are interested you can stop to visit some of the historical temples and monasteries adorned by the local people to uphold their worship and faith. The Kheri Goempa monastery is an hour walk (discuss with your guide). Another historical site en-route is the Yongla Goempa temple, which is an important temple in the region and the temple upholds the annual Tshechu (festival) presided by Yongla Lam. During the religious festival variety of mask dances and fold dances were entertained to the gathering local people, who comes to witness the religious mask dance and receive blessing.
Day 06: Demri Zam – Denchung (1,231m)
Demri Zam is traditionally the resting place for the traders during those olden days to make their night halt. The region is surrounded by plentiful rivers and if you wish to enjoy swimming and fishing you are most welcome. For fishing kindly notify us before hand, so that we can arrange your fishing permit. It is necessary for trekkers to carry your fishing gear along with you and hiring of the equipment is not readily available in Bhutan.
Your trail begins with a slow ascent until you reach Tsatshi Danri where you will stop for lunch. After lunch your trail follows an steep descent till you reach Tonglingdrang Suspension Bridge. From here the trail continues with slow ascent until you finally arrive at Denchung for your campsite on the side of Khaling River.
Day 07: Denchung – Cheya (1,442m)
Today you have a difficult walk as the path is steeply climbed. In the morning hour the trail takes you through following Khaling River for more than two hours till you reach Denchung, where you will stop for lunch. After your picnic lunch the trail takes you through rich forest of blue pine and other broad-leaved forest and finally lends at your campsite at Cheya.
Day 08: Cheya – Trashigang
Your trek from Cheya – Trashigang can be negotiable within three hours and we suggest you to make a leisurely start in the morning. The trail takes you through crossing several farm-roads and villages and finally takes you to Cheya Tsho where you will be pick-up by your vehicle and transfer to Trashigang.
Day 09: Trashigang – Samdrup Jongkhar
Drive to Samdrup Jongkhar.
Day 10: Exit Bhutan