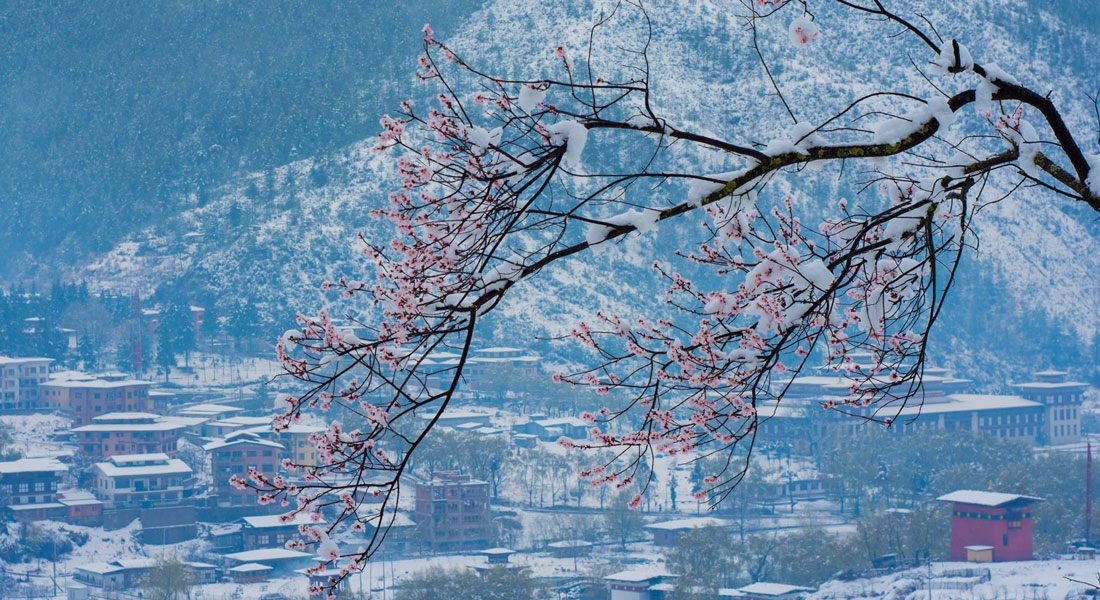 Weather and climatic conditions
There are four distinct seasons in Bhutan (winter, spring, summer and autumn). The spring and summer months are usually pleasant with mild temperatures throughout the region. In the summer, it can get hot during the day and occasionally rain easily. In the winter months it is very cold at night and in the morning, during the day it can be pleasantly warm.
Every season has its charm, for example, the spring and summer season is a planting season for farmers across the country. Colorful flowers and lush green rice fields can be seen everywhere, making the landscape fresh and stimulating. During the fall season, crops are harvested all over the country and the fields shine in bright gold. The highlight of the winter season is the clear blue sky with an uninterrupted view of the valley and the Himalayas, ideal for hikers and mountain bike tours.
Religious celebrations
Tourists who want to visit a festival during their trip to Bhutan should plan their trip in spring or autumn. The famous festival Paro Tsechu is celebrated in March or April and the Thimphu Tsechu in September or October. Parse Tsechu and Thimphu Tsechu are the country's most popular mask dance festivals. Bhutan receives the most tourists during this time. Therefore, interested travelers should book their stay early to secure flights and hotel rooms.
Trekking
If you would like to do a trekking tour in Bhutan, you should plan your trip either in spring or autumn. The trekking routes remain inaccessible during the winter months, as the constant precipitation at higher altitudes makes walking difficult. In spring and autumn, however, there are mild climatic conditions and the weather is mostly dry, which is ideal for trekking tours.
Low budget travel
Budget-conscious travelers who would like to come to Bhutan should visit the country in winter or summer. During these periods, the daily rate will be reduced by $ 50 per person per night, significantly reducing travel costs. Airlines also offer cheaper fares during these times.
It is also possible to travel to eastern Bhutan for a cheaper price: tourists only have to pay the sustainable development fee of US $ 65 per day.