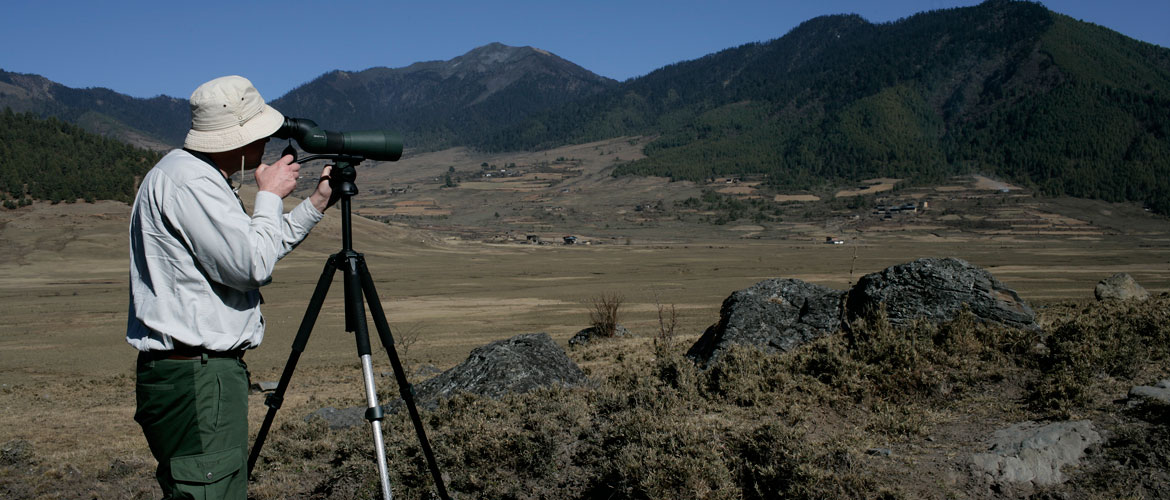 The tiny Himalayan kingdom of Bhutan has increasingly being described as the birding paradise of the world. Moreover, on this birding tour of Bhutan, we will take you through some of the most astonishing and densely wooded forest, mountain passes, panoramic landscape, and field of green-carpeted valleys, where you will find some of the very special and beautiful birds. Visitors will also get an opportunity to experience the Bhutanese belief and traditions that are vibrant in all aspect of daily life.
Duration: 14 Days / 13 Nights
Detailed Itinerary
Day 01: Arrival Guwahati (India) – Transfer to Samdrup Jongkhar (Bhutan)
Today at your arrival at Guwahati (India), our representative will be there to welcome you at the airport and then drive to Samdrup Jongkhar (Bhutan), lies at the south-east corner of Bhutan. As you enter Bhutan, our local representative will welcome you with a traditional Bhutanese style and then after a short custom formalities you will be transfer you to the hotel. Depending upon your interest you can also do some introductory birding in the town area, where you will find some sub tropical low altitude birds such as Gaudy Blue-Throated, Coppersmith And Lineated Barbets, Blue-Bearded Bee-Eater, Indian Pond Heron, Ashy Woodswallow, Cinereous Tit, Chestnut-Tailed Starling And Pied And Great Mynas.
Day 02: Samdrup Jongkhar – Morang (Camp)
Today after your breakfast your drive takes you uphill from the low altitude of 2000ft/610m all the way through thick vegetation of teak forest, tall bamboos and swaying ferns and then finally to Morang village at an elevation of 4650ft/1418m. You drive takes you with several stops on the way spotting several birds with some low land species and others which you are likely to see are: Wreathed And Great Hornbills, Mountain Hawk-Eagle, Mountain Imperial Pigeon, Tiny Grey-Capped Pygmy Woodpecker, Common Iora, Rufescent Prinia, Bright Blue Black-Naped Monarch, Beautiful Red-And-Black Scarlet Minivet, Black-Crested, Ashy And Black Bulbuls, Pin-Striped Titbabbler, Golden-Fronted Leafbird, Bamboodwelling Yellow-Bellied Warbler, Whiterumped Shama, Outrageous Sultan Tit, Brilliant Asian Fairy-Bluebird, Stunning Long-Tailed Broadbill, Black-Backed Forktail, Slaty-Backed Forktail, White-Capped And Plumbeous Water Redstarts, Grey Wagtail, Brown Dipper and Crested Kingfisher, Hornbills, Barbets and Green Pigeon. . With fewer chances, you will also get to spot the rare encountered birds like Dark-Rumped Swift and Pied Falconet. As your drive continues through forested foothills towards your campsite at Morang, the surrounding broad-leaved forest provides you with different species of birds like Beautiful Nuthatch, Black_Faced Warbler, Grey-Headed Canary-Fly Catcher, Black-Throated Bushtit, Striated Laughing Thrust, Long-Tailed Sibia, Silver-Earned Leiothrix and Refous-Necked Hornbill and so on. In the evening, you will finally arrive at your campsite at Morang at an elevation of 4650ft/1418m.
Day 03: Morang (Camp) – Tashi Gang
Today your drive takes you to the heart of eastern region Tashi Gang (3725ft/1136m). Tashigang is one of the densely populated district in the country with a mild climate. Your drive takes you through lofty forest and rhododendron filled valley. Several stops will be made along the way to spot for birding and some species you are likely to encounter are Ward's Trogon, Highly Nomadic Golden-Naped Finch, Scarce White-Spectacled Warbler, Rufouswinged Fulvetta, Exquisite Green-Tailed Sunbird, Yellow-Cheeked And Yellow-Browed Tits, Yellow- Rumped Honey Guide, Wall Creeper, White-Tailed Nuthatch and Fire-Breasted Flower Pecker, Himalayan Vulture, Migratory White-Throated Needle Tail and White Throated Laughing Thrush are the species that can be seen.  Reaching Trashigang stroll around the small town before you check into your hotel. People here speaks Sharchopa, a dialect spoken in the eastern region.
Day 04: Tashigang – Bumdeling Wildlife Sanctuary
Today after your breakfast in the hotel drive to Tashi Yangtse the close provience of Tashi Gang. Your drive takes around 2 hour till Tashi Yangtse. From Trashi Yangtse we encourage our travelers to walk on foot till you reach the valley of Bomdeling, which takes around three hours walk and en-route you can stop for spotting birds. The Bomdeling Wildlife Sanctuary conserves a rich diversity of flora and fauna. The natural landscape and ecosystem range from sub-tropical forest to alpine meadows with scenic alpine lakes. It is one of the main winter roosting ground for the migratory endangered Black Necked Crane. This migratory bird comes to Bomdeling in the month of October and stay there till the mid-March. Along with you birding you can also visit some of the historical temples and monasteries in the region.
Day 05: Bumdeling Wildlife Sanctuary
Today you will be spending your whole day exploring the Bumdeling Wildlife Sanctuary which consist of various flora and fauna. The area have around 100 mammals species that reside within the reserve like- Himalayan Black Bear, Musk Deer, Blue Sheep, Red Panda, Royal Bengal Tiger, Snow Leopard and also you can encounter common wild animal like Samber, Barking Deer and Wild Board. Apart from the Winter roosting Black Necked Crane, birders will also encounter recorded birds like Ibisbill, Blood Pheasant, Satyr Tragopan, the rare Gould's Shortwing, Grey-Crowned Prinia, Yellow-Rumped Honeyguide, Yellow-Billed Blue Magpie and Snow Pigeon. There are more than  300 species of birds found in the region ranging from warm broadleaved forest to wetlands and alpine and sub alpine meadows. Evening return to your lodge for night halt.
Day 06: Tashi Yangtse – Mongar
After your early morning check out, drive to Mongar on your way you will encounter some of the birds like Himalayan Bulbul, Striated Prinia, Blue-Capped Rock Thrush, Hodgson's Red Start and White-Crested Laughing Thrush. Your drive takes you through some of the breathtaking landscapes and stunning vistas. The road hugs the tight contours of steep tree-covered mountain slopes and ascends sharply to Kori La Pass at 7800ft/2378m. The pass is marked by gaily fluttering prayer flags and a prayer wheel. Pass through the lofty Kori La you then enter through the forest of rhododendron and several other altitude species plants. There are chances of spotting Darjeeling Woodpecker, Chestnut-Crowned Laughing Thrush, Dazzling Green-Tailed Sun Bird, migrant Blue Rock Thrush, Grey-Winged Black Bird, Striking Yellow-Billed Blue Magpie, Slaty-Blue Fly Catcher, Black-Faced Warbler, Rufous-Winged Fulvetta, Rufous-Breasted Accentor and the Flame-Throated Red-Billed Leiothrix, you will also get a chance to spot Ward's Trogon, Golden Napped Finch and Black Headed Shrike-Babbler, Nomadic Seed-Eater, Crimson-Browed Finch and Yellow-Breasted Green Finch. Your drive finally reaches to Mongar. Overnight in hotel Mongar.
Day 07: Mongar – Lingmithang
Today after your breakfast in the hotel, your drive takes you through fair-sized village of Mongar and then finally you will drop for almost 600m downhill till you reached the open field where you will stop for lunch. The stop has some Rufous-Necked Laughing Thrushes and Crested Buntings. After having your lunch you are given a measurable time for birdinn around the lowland forest patches above the beautiful town of Lingmithang. In the vicinity the chances of birds you can encounter is the lime-colored Common Green Magpie, Chestnut-Winged Cuckoo, Slaty-Backed Forktail, Yellow-Vented Warbler, Blue-and-White Ultramarine Flycatcher, Black-Chinned and Striated Yuhinas. In the late evening you will reach the small guest house where you will spent night.
Day 08, 09, 10 – Lingmethang and Surrounding (Yongkhola & Upper Sengor)
Lingmethang surrounding is rightfully known for birding and today it is considered one of the best birding sites in all of Asia, since the area offers an endless tracts of pristine broadleaved and coniferous forest that spans across a vast altitude ranges which provides a fascinating spots for birds habitats and opportunity for birders. All the three days birding will fall under the protected Thrumshingla National Park where we will go and search for the birds and their habitats in this splendid avian diversity. You will also encounter several mammals. You are likely to see several of Asia's most sought-after birds and two of our main targets, the beautiful but rare Ward's Trogon (the male an unbelievable pink and the female an unusual lemon yellow!) and the incomparable and endangered Rufous-necked Hornbill. The additional bird species you can further search and find is like – flocks of busy Greater Rufousheaded and Black-Throated Parrotbills, Golden-Breasted and Yellow-Throated Fulvettas, the Shy Rufousthroated Wren-Babbler, Lesser Yellownape, Crimson-Breasted Woodpecker, the Vivid Asian Emerald Cuckoo, Grey-Cheeked and often-elusive Broad-Billed Warblers, radiant Large Niltava, White-Naped Yuhina, Whitetailed Robin, the much-desired Coralbilled Scimitar Babbler, unobtrusive Mountain Tailorbird, outrageous Himalayan Cutia, Little Forktail, resplendent Mrs. Gould's Sunbird, secretive Blue-winged and Grey-sided Laughingthrushes and one of Asia's most difficult Laughing Thrushes, the elusive Scaly Laughing Thrush. Two of the rarest birds that we might come across with some luck are the bizarre and once near-mythical Sikkim Wedge Billed Babbler and Long-Billed Wren-Babbler. In your final day along the road to Lingmithang, the surrounding forest covered area provides with some of the bird species like Black-faced, Chestnut-Crowned and Spotted Laughing Thrushes, the Secretive, Rusty-Flanked Treecreeper, shy and reticent Plain-Backed Thrush, Tibetan Serin that flock in large groups, the widespread but Bizarre-Billed Red Crossbill, Slender-Billed Scimitar Babbler, Green Shrike-Babbler, noisy Spotted Nut-Cracker, striking Golden-naped Finch, skulking Scaly-breasted Wren-Babbler and White-Browed Short Wing, tiny Chestnut-headed Tesia, Bar-winged Wren-Babbler, Satyr Tragopan – and Regal Pheasant. Finally we will set down for our night halt camp at Sengor. We hope you have saved enough variety of birds.
Day 11: Sengor Camp – Bumthang
After your morning breakfast in the camp, we then head to Bumthang which is our today's destination and on the way as you traverse through the surrounding slope of Thrumsing La National Park through diverse ecosystem you will get a chance to encounter Great Parrot Bill and Fulvous Parrot Bill. As you continue your journey you will also get to encounter with Red-Billed Chough, Russet Sparrow, Plain Mountain Finch, Fird-Tailed Sun Bird, Fire-Tailed Myzornis, Gray-Crested and Rufous-Vented Tits. Additional species you are likely to encounter is Himalayan Blue Tail, White Browned Bush Robin, nomadic Rusous-Breasted Bush Robin, White-Colared Black Bird, Rufouse-Gorgeted Fly Catcher, Eurasian Wren, Dark-Rumped, Dark-Breasted, Common Rose Finches, Olive-Backed Pipit and Snow Pigeon. Finally you will reach Bumthang, the drive takes you through some of the stunning landscapes, settlements and if the weather is clear the panoramic view of the highest unclimbed peak Mt. Gangkar Punsum will be seen at a height of 24735ft/7541m. Reaching Bumthang check in to your hotel and the rest day at leisure.
Day 12: Bumthang – Paro
Today you will be driving to Paro which lies in the western region. As you check out from your hotel early in the morning spent a short valuable time in the surrounding valley of Bumthang where you will spot some of the birds like Ibisbill, Brown Parrotbill, Little Bunting and Pintail Snipe. Finally your drive takes you pass via Trongsa, Wangdue, Thimphu and finally to Paro. The drive is bit long with many twist and turns. Therefore, you can also choose to take a domestic flight from Bumthang to Paro.
Day 13: Day Excursion and Birding at Chele La
Today will be your last second day in Bhutan and your last day of birding. We suggest you making an early start in order to make the most of the great birding opportunity. Chele La is one of the highest motor road pass in Bhutan and lies at a cool crisp 12,200ft/3720m and the road takes you through a spectacular lovely forest of pine, oak and rhododendron. The Chele La Pass unbelievable provides some of the birds like Himalayan Monal, Blood and Kalij Pheasants, Satyr Tragopan, Darjeeling Wood Pecker, Himalayan White-Browed Rose Finch, the white Red Headed Bull Finch, Collared and White-Winged Gros Beaks, high-flying Plain Mountain Finch, Warbler-like Gold Crest, Rufous-Breasted Accentor, Vocal Long-Tailed Thrush, giant Spotted Laughing Thrush, Eurasian Wood Cock. After a good time birding along the surrounding pass of Chele La, you then finally return to Paro. In the evening, we will go around the Paro Chhu where we will encounter some birds like Black Tailed Crake, Pine-Tailed Snipe, Rosy Pipit, Ibisbill. In the late evening, you will drive to your hotel or spent few minutes strolling around the downtown of Paro for shopping or buying gifts for your friends and family.
Day 14: Hotel – Airport
After your breakfast drive to Paro Airport and fly off for your onward destination. Wish you a safe trip back home.